fp

NATURAL

®

Powders

POUDRES DACTYLOSCOPIQUES FLUORESCENTES SOUS IR

Révélez les empreintes papillaires à haut contraste tout en supprimant les interférences de fond.

Malgré le grand nombre de traitements dactyloscopiques actuellement disponibles, les examinateurs sont toujours frustrés par certains substrats « difficiles ».
Les arrière-plans multicolores et à motifs denses, les surfaces métalliques réfléchissantes et les substrats fluorescents qui deviennent fluorescents aux mêmes longueurs d'onde que les traitements fluorescents courants peuvent nuire à la réussite de l'imagerie dactyloscopique. Toutefois, il est possible d'éliminer les interférences et de révéler des empreintes digitales à haut contraste en recouvrant celles-ci de poudres révélatrices fluorescentes sous infrarouge fpNatural.
Poudres inspirées par la nature
Exploitation des propriétés fluorescentes sous infrarouge des plantes et des minéraux
Lors de la recherche de matières qui deviennent fluorescentes dans l'infrarouge, nous nous sommes d'abord inspirés de la nature, en testant divers minéraux et poudres à base de plantes pour en vérifier l'adéquation. Nous avons obtenu d'excellents résultats en utilisant un mélange modifié de cyanophyte et un pigment minéral bleu vif connu sous le nom de bleu égyptien.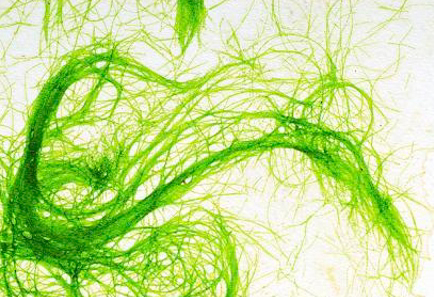 fpNATURAL®1, une poudre fluorescente à base de plantes
Le Cyanophyte ou cyanobactéries est un embranchement de bactéries qui tire son nom de sa couleur bleue / verte. Il existe environ 2000 espèces de cyanophytes souvent appelées algues bleu-vert. Le mélange parfait répond à toutes les exigences requises pour produire une poudre dactyloscopique infrarouge idéale :
+ Émet une fluorescence infrarouge vive sous lumière bleue/rouge
+ Riche en phycocyanine et chlorophylle fluorescentes sous infrarouge
+ Non toxique, sûr à utiliser et à manipuler et facilement appliqué à l'aide d'un pinceau zéphyr
fpNATURAL® 2, une poudre fluorescente à base d'un pigment minéral
Le Bleu égyptien, connu également sous le nom de silicate de calcium et de cuivre ou de cuprorivaite, est surtout connu pour son utilisation dans les œuvres d'art égyptiennes anciennes. On le trouve sur les statues, les peintures funéraires et les sarcophages. Le bleu égyptien est une poudre bleu vif, vue dans le spectre visible. Il présente une forte fluorescence dans le proche infrarouge lorsqu'il est éclairé par une lumière visible ou proche infrarouge. Le mélange fpNATURAL®2 du bleu égyptien offre les avantages uniques pour le dactyloscopiste :
+ Émet la fluorescence sous lumière proche infrarouge
+ Présente un rendement quantique sensiblement supérieur à 10 %
+ Idéal pour les applications secrètes (peut être stimulé dans le proche infrarouge)
Éclairage et imagerie
Kits d'imagerie infrarouge d'entrée de gamme et avancés pour le lieu de crime et le laboratoire de police scientifique.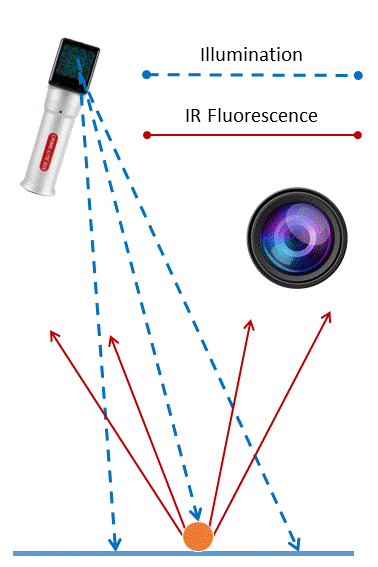 Kits d'imagerie fpNATURAL®1
Le fpNatural®1 est stimulé grâce à un éclairage « visible » dans les bandes d'onde bleues ou rouges et émet une fluorescence infrarouge « invisible ».
fpNATURAL®2 Imaging Kits
fpNatural 2 is stimulated by 'invisible' Near-IR illumination and emits 'invisible' IR fluorescence.
fpNATURAL®1 Imaging Kits
fpNatural 1 is stimulated using 'visible' illumination in the blue or red wavebands and emits 'invisible' infrared fluorescence.
fpNATURAL®2 Imaging Kits
fpNatural 2 is stimulated by 'invisible' Near-IR illumination and emits 'invisible' IR fluorescence.
Visualisation and Image Capture Kits
IR fluorescence emitted by fpNatural is not visible to the naked eye and can only be viewed via an IR sensitive camera.