Crime-lite

®

2

Une gamme de sources lumineuses à LED légères et efficaces, à courte portée, assurant un éclairage intense, homogène et sans ombre qui permet de localiser et d'examiner les éléments de preuve en criminalistique.

La gamme comprend un modèle à lumière blanche pour effectuer une recherche générale et huit sources lumineuses à largeur de bande étroite offrant des longueurs d'onde dans les spectres ultraviolet, violet, bleu, bleu/vert, vert, orange et rouge qui permettent de détecter les colorants fluorescents.

Avec des milliers d'unités utilisées activement par des enquêteurs criminalistiques et de la police scientifique dans le monde entier, la Crime-lite® 2 a prouvé son efficacité et sa fiabilité. Les sources lumineuses Crime-lite® 2 sont proposées à l'unité ou en assortiments avec des lunettes de vision ou de vue.
Applications
La Crime-lite® 2 est disponible en une gamme étendue de longueurs d'onde, ce qui en fait un outil idéal pour de nombreuses applications criminalistiques, notamment la détection et l'analyse des :
fluides corporels, contusions et morsures fibres cheveux et poils fragments d'os et de dent produits accélérants
La Crime-lite® 2 est également un outil tout à fait adapté à la détection des empreintes digitales traitées, notamment :
Ardox – Ninhydrine – Jaune basique – Redwop – Greenwop – DFO – Rhodamine 6G
Éclaboussures de sang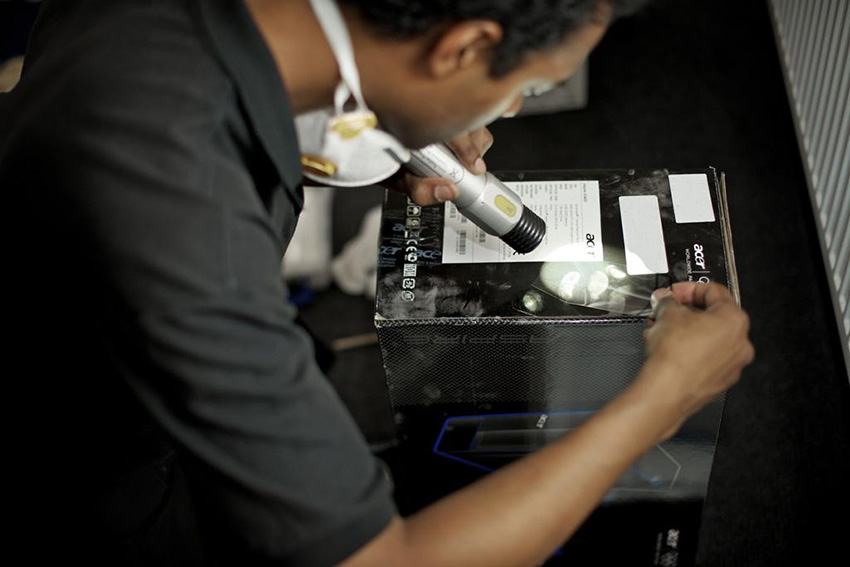 Étant donné que le sang absorbe toute la lumière dans la largeur de bande de 300-500 nm, les taches et les éclaboussures ressortent en noir sur les fonds de couleur claire ou sur les surfaces qui deviennent fluorescentes sous un éclairage ultraviolet, violet ou bleu.
Résidus de drogue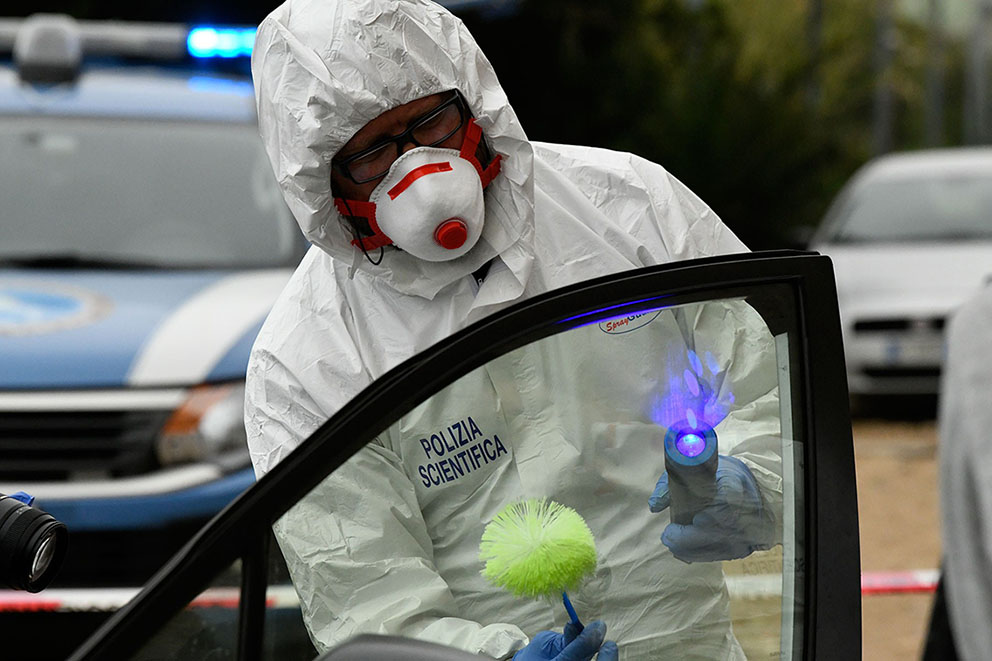 Les traces de certaines drogues illicites (notamment la cocaïne, les amphétamines, les comprimés d'ecstasy et le LSD) peuvent devenir fluorescentes sous éclairage ultraviolet. Le degré de la fluorescence émise par les drogues sous examen dépend de la pureté de la drogue et des ingrédients supplémentaires avec lesquels la préparation de la drogue a été coupée.
Traces de pas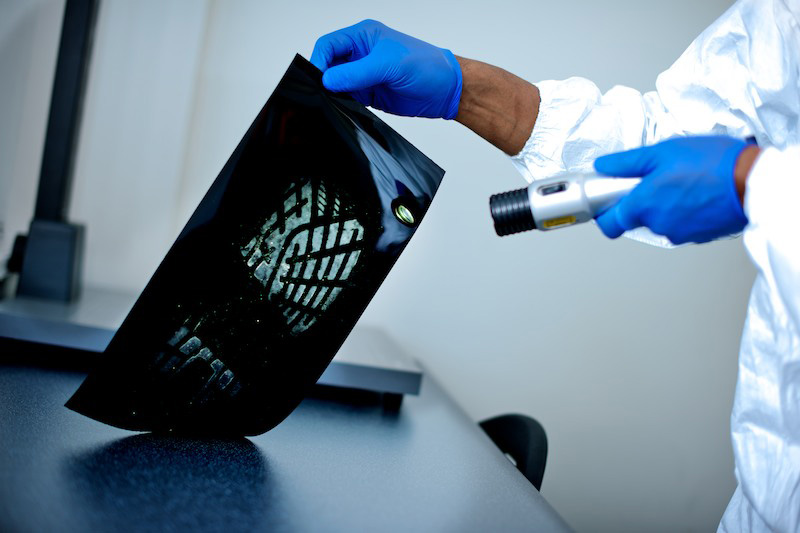 La lumière blanc intense de la Crime-lite® 2 polyvalente peut être appliquée à un angle oblique pour améliorer considérablement le contraste des traces de pas.
Pour une recherche et une analyse minutieuses et optimisées des traces de pas, nous recommandons la Crime-lite 82L.
Accessories
Crime-lite anti-glare viewing goggles and camera filters are essential for the examination and photography of fluorescent evidence.
Each anti-glare filter is manufactured from Schott glass with an additional coating to suppress auto-fluorescent emissions from the Schott glass itself, thus ensuring maximum optical performance when using high power light sources.
As standard foster+freeman camera lens filters are supplied with 62mm fittings, other sizes are available on request.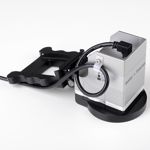 5MP IR sensitive camera
for the visualization and digital image capture of evidence
Attaches to the Crime-lite 2 via adapter
Hi-speed USB 2.0 interface
Includes UV, Vis & IR filters
Includes image capture software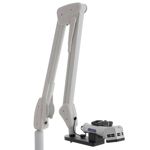 Articulated Arm
for the hands-free operation of the Crime-lite 2
Bench or wall mounted
Reach 132cm
Internal power and USB cables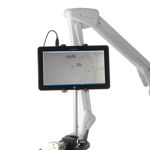 Tablet PC Mount
adjustable mount that clamps tablet PC to Articulated Arm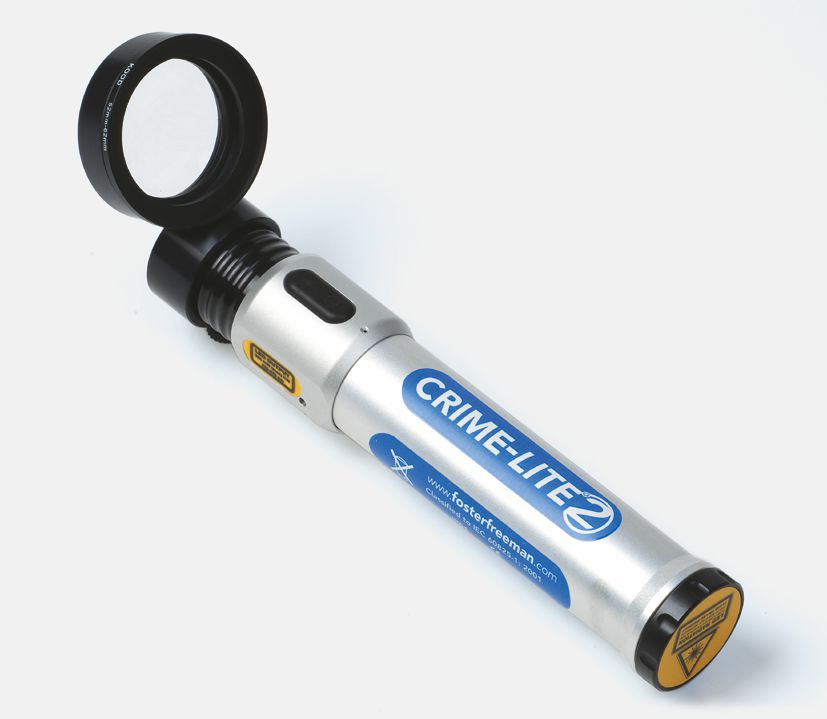 A simple magnifying lens attachment providing x2 magnification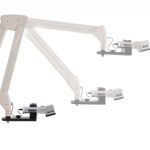 Available for use with all foster+freeman Crime-lites, this heavy-duty low-profile articulated arm allows for easy hands-free operation of high-intensity light sources.
Internal power cables can be used to connect the Crime-lite (and optional camera) to an AC mains power outlet without trailing wires.
Crime-lite's are attached via an adjustable clamp.
Available for use with all foster+freeman Crime-lites but originally designed for use with Crime-lite 82S IR and Crime-lite ML2 systems (light source, camera and tablet PC), this robust wheeled cart is ideal for use in forensic laboratories.
The 70x60x70cm unit is mounted on lockable castors and can be manouvered around exhibits. A two-point fixing plate allows for the easy attachment of a Crime-lite articulated arm.
An optional uninterruptable power supply can be used to power equipment with no trailing wires. When not in use the trolley can be connected to an AC mains power outlet to be recharged.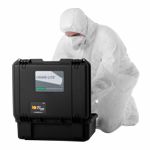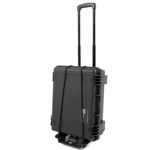 CSI Case
available in a variety of sizes for all Crime-lite forensic light sources.
CSI Case Trolley
for easy transportation of Crime-lite CSI cases.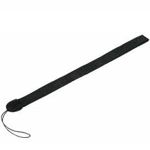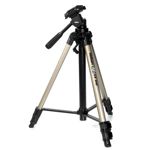 Wrist Lanyard
attaches to handheld Crime-lites to prevent the risk of being dropped.
Tripod
available for all Crime-lite forensic light sources.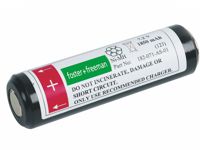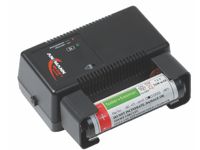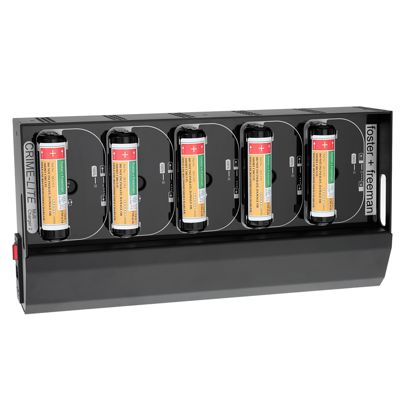 Spare or replacement batteries and battery chargers are available for all handheld Crime-lites. The following components are available for the Crime-lite 2:
Single 7.2 V battery QCL/13B
Single battery charger QCL/06/C
Multi-port charger QCL/172